Stefanie
Sold Out!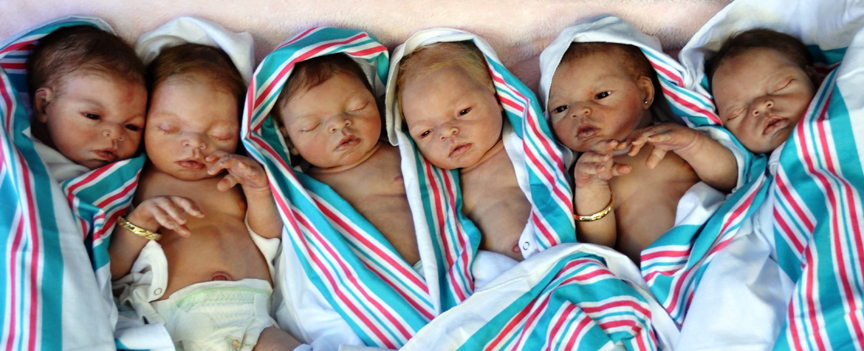 Sorry, Stefanie has Sold Out!
My Newest Silicone baby Stefanie is available in Solid platinum silicone.

Stefanie is a full size chubby newborn baby, a LE of 15 babies. Her head circumference is 14" and she is a 20" baby. Stefanie has full limbs, and an anatomically correct chest/belly plate with magnetic umbilical cord over a custom made doe suede body. She wears a white Will'Beth outfit with little colored flowers. Stefanie is available as a completed doll only. There are no kits available for Stefanie.

There are only 15 babies available in the edition of you can choose if to have one of these 15 babies asleep or awake. There are NOT going to be 30 available ONLY 15 and the collectors' choices will dictate how many will be asleep or awake by their choice for their Baby Stefanie.

You can also choose if you would like to have

Dragon skin or soft platinum silicone, skin tones for your baby. I made a new biracial skin tone I call Stefanie, just for this beautiful baby, but you can also choose from my other skin tones, l offer Light Caucasian, Caucasian, Biracial, Asian, and African

If you choose to have an awake Stefanie you can to have newborn blue or brown eyes. I use only high quality glass eyes for my babies.

Stefanie is $1595, and the non-refundable deposit to for Stefanie is $350. Shipping is included in the USA an additional $40
for international shipping.
Lay away is available up to 9 months

All lay away and deposits are non refundable and not transferable to another doll.

For more information please contact me info@ClaireTaylorDolls.com

The pictures below show Stefanie in two skin tones, a special biracial color I call Stefanie and Caucasian
Please enjoy Stefanie's pictures!