Kayden
Kayden is SOLD OUT
The pictures below are for your viewing pleasure.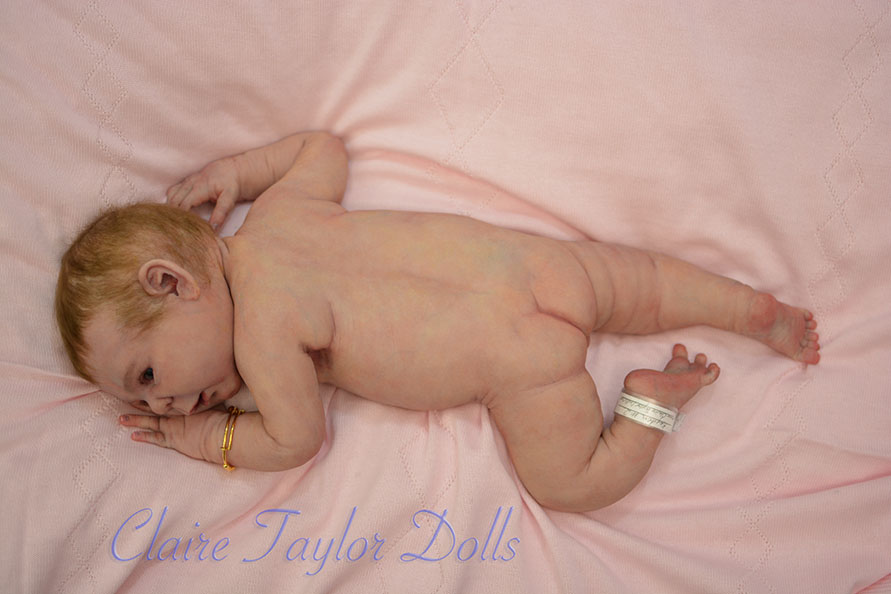 The other dolls in Kayden's edition are already adopted.
 Kayden Details
Made completely by Claire Taylor
  Limited Edition -  5 dolls and Artist prototype
Soft platinum silicone poured by Claire Taylor Dolls
Length 20"
Head Circumference 15"
weight 9 lb. 8 oz
One piece doll, no neck joint. Extra Flexible neck, a posable neck that will hold her position when turned to the side.
 High-Quality German Newborn Blue Glass Eyes 
 Micro rooted premium dark brown mohair 
Carefully painted manicured finger and toe nails
Takes a full newborn pacifier and bottle.
Drink And Wet system
 Armatures in both her arms and legs, down to her wrists and heels. 
Comes with a bottle, pacifier and hand made custom crochet outfit and blanket shown in the pictures and others not shown.
This is such a beautiful and realistic baby and she was a pleasure to create. 
Her skin-tone is achieved by layers of silicone paint, and sealed with a matte sealer so the silicone does not shine.
The micro rooted hair was done personally by Claire directionally rooted so it will keep the general original style.
Please feel free to ask questions info@ClaireTaylorDolls.com
 International bidders  You will be responsible for all customs fees and taxes assigned by your Country's laws.
 This baby  is an Adult's collectible doll, she is not a toy; she is not intended as a child's play-doll,
and should be handled as gently as you would a real baby.
 Please contact me with any questions or concerns before bidding. 
This is an Artist made silicone doll, these type of dolls are hand made dolls, this doll is not manufactured, and although carefully made in an artist's studio she may have a slight imperfections which is not considered flaws. This doll was molded reproduced all by hand by me Claire Taylor, in my studio.
The pictures below have not been altered, except to add the watermark.  
Please enjoy Kayden's pictures, they were taken at different times in different lighting situations.