Jun Jie
Scroll all the way down to see all the pictures of JunJie
Jun-Jie is now available. There will be 2 artist proofs, 20 spots available
Like my other silicone dolls his silicone will not shiny but matte, and smooth like real baby skin.
He has full legs and arms, and is a full size baby, measures 22" with his legs curled up. He has a 15" head circumference and is a very chubby baby. Jun-Jie has a custom made with a weighted doe suede body, and is poured in an Asian skin tone.


Completed babies are $1,500 shipped in the USA and additional shipping of $35 internationally.
Please feel free to contect me with any questions or concerns, or concerns Info@ClaireTaylorDolls.com
If you are interested in Jun-Jie, the deposit is $350 and lay away is available.
No lay away deposits will be refunded if the lay away is not completed.
Deposits and lay away is non refundable and will not be transferred to another doll.
Click on pictures below to see more pictures of the dolls
Adopted Gallery
Click on picture to see more pictures of #3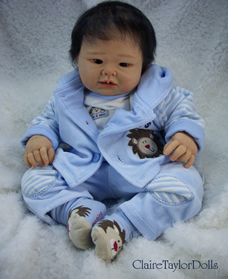 Click on picture to see more pictures of #4