Bubbles Asleep Silicone Cuddle Kit
Asleep Silicone Kit introduced in June 2022
Bubbles is our Asleep silicone cuddle baby kit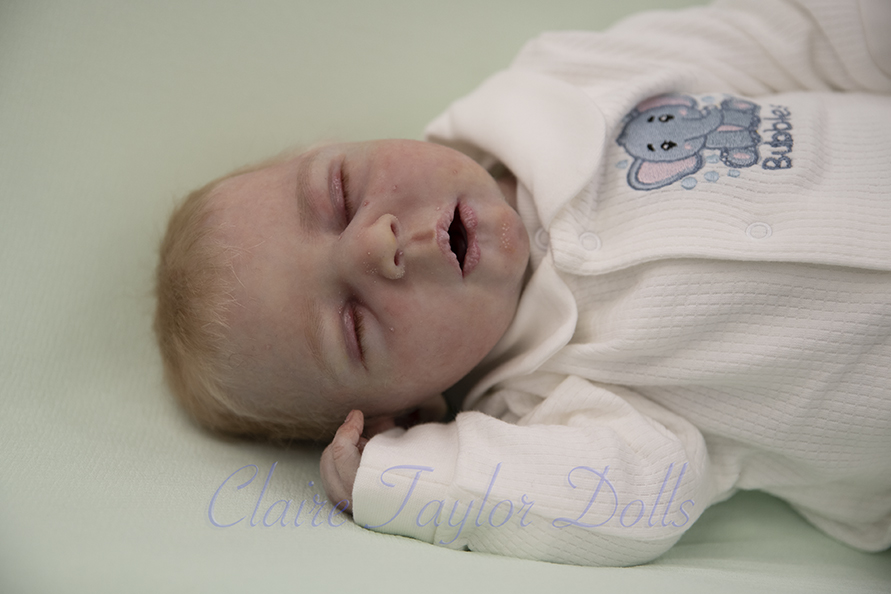 Scroll down to see pictures of Bubbles Asleep
Enjoy Bubbles Asleep Introduction video below
Bubbles Asleep is our silicone cuddle baby kit being introduced in June 2022 .
Bubbles is available as an unpainted silicone cuddle baby kit.
Bubbles is available as a cloth body silicone unpainted cuddle doll kit only.
Bubbles is a temporarily available as an unlimited kit edition doll while it is in production The kits will not be numbered.
If the molds break or other factors affect production we will stop producing Bubbles and the kit will no longer be available.
Bubbles will come with a Certificate of Authenticity.

Bubbles Asleep is a chubby 21" cuddle baby kit, and the head has a circumference of 14".
The kit includes a silicone head, silicone hands and feet, and a personalized embroidered cloth body.
Bubbles has a detailed open mouth with gums and a tongue.
Bubbles kit price is $550.00 plus shipping based on your location.
Bubbles will be availableWednesday, June 29th, 2022 at 9am Eastern time Zone.
I am located in Florida USA and I will answer your questions while I am available.

Bubbles Kit makes a 21" cuddle baby

Cloth body cuddle baby kit comes with hands, feet, and embroidered personalized cloth body

Head circumference 14"

Open detailed mouth

Bubbles is listed as a cuspom poured edition. You will be able to place your order button in my store on
Wednesday June 29th, 2022 at 9am Eastern time Zone
LayAway is available
Silicone painting kits with instructions are also available in my store.

Wednesday June 29th, 2022 at 9am Eastern time Zone
LAYAWAY

There will be lay away kits available, they will be made to order where you can choose the skin tone.
Lay away will be $150 non-refundable down payment and the non refundable payments towards the balance should be paid within 4 months. When your lay away is completed, the kits will be poured and shipped within 2 weeks.
Layaway deposits and payments are non-refundable.
Wednesday June 29th, 2022 at 9am Eastern time Zone
Bubbles comes as an unpainted kit with no hair and the pictures below of completed dolls represent how she could look after you have painted and rooted hair on your kit.